Sam named Social Entrepreneur of the Year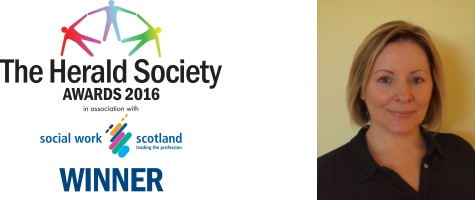 Congratulations to business development manager Sam Cribb who has picked up a prestigious award for her work in developing affordable tenancy options in the Highlands.
Winner of the Social Entrepreneur of the Year category at the Herald Society Awards, the award recognises entrepreneurial individuals who have set up and run a business driven by social aims and objectives.
Sam topped the nominees list for her work in leading the transformation of Albyn Housing Society's factoring business as well as her development of AEL's trading brand, Highland Residential.
Set up in 2015, Highland Residential leases properties under the new mid-market rent affordable homes model, which evidence shows supports longer, better and more sustainable tenancies. Highland Residential also works with private landlords, driving an increase in affordable private rental properties across the Highlands.
Speaking of her award win, Sam said: "For me, the experience of growing and developing AEL and the Highland Residential brand has given me a much greater understanding of how commercial awareness partnered with social purpose can deliver excellent results for both the business and the wider community.
"It's a real honour to be named Social Entrepreneur of the Year and to fly the flag for Albyn and its pioneering work to provide quality, affordable housing options in sustainable communities across the Highlands. This award has certainly been a team effort so I'd like to thank everyone for their hard work and commitment these past few years."
For more information about the awards visit www.newsquestscotlandevents.com/events/the-herald-society-awards/